Online learning is new for many students. We have pulled together information to help you with the transition this Fall.
Internet Connectivity
If you are an Indigenous student at McMaster this year and do not have reliable internet we would like to hear from you and discuss the supports that are available. Contact Kari Hill: issrec@mcmaster.ca.
Pop-Up Study Hall
In collaboration with Six Nations Polytechnic and Mohawk College, Indigenous Student Services at McMaster University is now offering accessible Wi-Fi space at the Gathering Place by the Grand in Six Nations of the Grand River. The pop-up study hall can support students in attending virtual lectures and completing their coursework. Students have the opportunity to meet and build relations with students and staff from Six Nations Polytechnic and Mohawk College. In accordance with public health guidelines, limited seats are available.
To attend, students must download and use the McMaster Safety App to provide proof of full Covid-19 vaccination and complete the 'MacCheck' at least one-hour prior to arriving.
If you have any questions, please reach out and email indigssa@mcmaster.ca
Dates:
February 22-24, 2022
February 28-March 4, 2022
March 14-18, 2022
April 13-14, 2022
April 18-22, 2022
April 25-29, 2022
Hours:
9am-8pm
Location:
Gathering Place by the Grand 2593 Chiefswood Rd, Ohsweken, ON N0A 1M0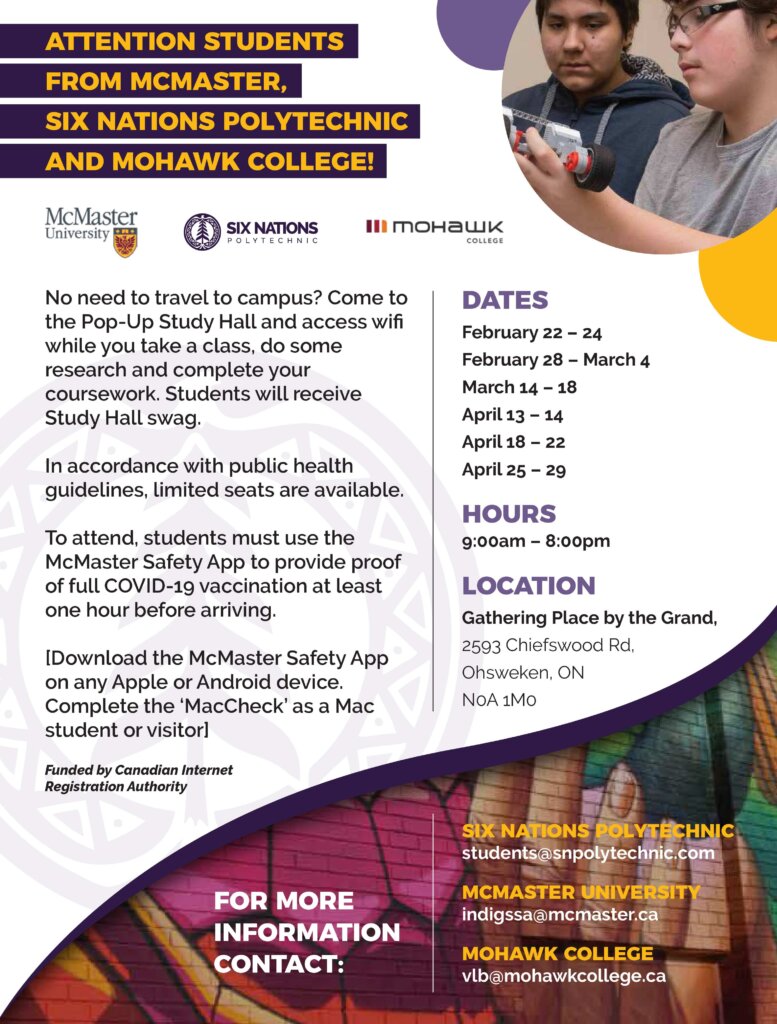 McMaster Resources for Online Learning
Check out these resources for study tips, tech tips and workshops.
Online Learning – Student Success Centre
Technology Resources for McMaster Students
Device Recommendations for Students – University Technology Services